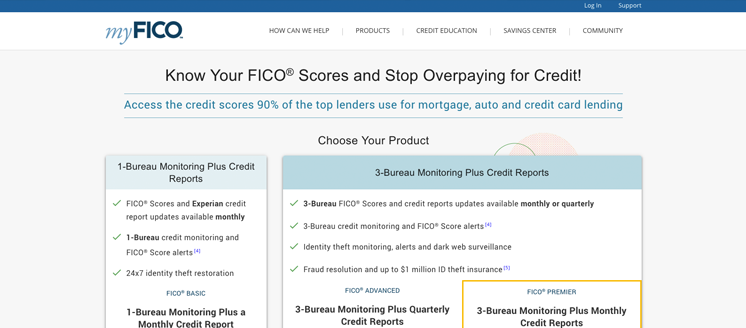 Features and Services
You may recognize the myFICO name, as FICO is one of the largest and best known companies that provides software for calculating your credit score. Unsurprisingly, myFICO is primarily a credit-based product, with some identity theft features mixed in. Their 3-bureau monitoring plans offer the following features:
3-Bureau Monthly Credit Monitoring
Credit Report Change Alerts
SSN Alias Watch
Black Market Web Surveillance
Up to $1 Million in Identity Theft Insurance
Lost Wallet Protection
FICO Score Simulator
FICO Score Analysis
Interest Rate Estimator
Mobile App
myFICO's features work well together to make sure that you're in the know when it comes to your credit score. Once signed up, you're able to forecast what mortgage, auto, and credit lenders would see about your credit score if you were to apply for a loan. You're also able to use the FICO Score Simulator and FICO Score Analysis tools to better understand where your credit is currently, and what you could do to build it.
A credit-based feature that you won't find elsewhere is a monitoring of any Negative Accounts that may exist in your name. These are accounts that are delinquent or have a past due balance. This is particularly helpful if you've opened credit cards that you no longer use, but still have open. Maybe an account maintenance fee has been charged, or maybe you just forgot about it- either way, Negative Accounts are a good thing to have highlighted.
When alerted of a potential threat to your identity, you'll find an inbox in your myFICO dashboard that allows you to review the new information. Right alongside this alert there is clear, action oriented information to give you context about the threat (What Does This Mean For Me?) as well as what to do next (Next Steps). In what can be a potentially confusing and upsetting situation, myFICO provides concise direction about where to go next, which is a big plus.
Pricing
myFICO offers several tiers of protection, with the main differentiator between the plans lying in how often you receive new credit reports, and from how many bureaus.
For their FICO Basics plan, which includes monthly credit reports from 1 credit bureau, plans start at $19.95 per month.
For their FICO Ultimate plans, which includes reports and monitoring of 3 credit bureaus, you can choose to receive quarterly credit reports for $29.95 per month, or monthly credit reports for $39.95 per month. Each of these plans will cover one individual.
If you're looking to protect your entire family, myFICO offers the FICO Family Ultimate plan, which covers 2 adults and up to 10 children. This includes quarterly credit reports from 3 credit bureaus and credit monitoring for the 2 adults, and identity theft monitoring for the entire family. This plan starts at $49.95 per month.
Support and Customer Service
myFICO seems to work to provide all of their users with whatever information they would need, right at their fingertips. Your member account is rife with educational materials, and their Community tab provides a forum for users to post questions, respond to others, and start discussions about credit and identity protection.
If you need to speak to someone regarding your myFICO account, you can call their customer service team during the following hours:
Monday through Friday, 6AM – 6PM PST Saturday, 7AM – 4PM PST
We couldn't find any information regarding after hours support if your identity is threatened.
Conclusion
myFICO is a credit-focused product that seems to have some identity theft protection features mixed in as an afterthought.
If you're thinking of applying for a housing or auto loan in the near future, or want to focus on your credit score, we would recommend myFICO as a good option. If you're looking for robust identity theft protection, we would recommend that you keep looking.