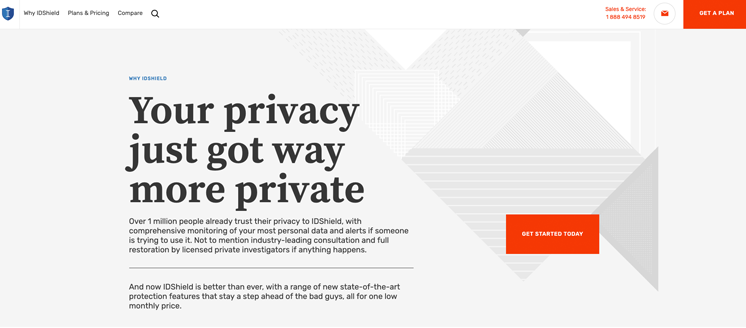 Features and Services
A membership with IDShield boasts a long list of items that they'll monitor for you.
Credit Monitoring
Public Records Monitoring
Court Records Monitoring
Sex Offender List Monitoring
Address Change Monitoring
Payday Loan Monitoring
High Risk Application and Transaction Monitoring
Dark Web Internet Monitoring
A feature that stands out on this list is Court Records Monitoring. IDShield will consistently monitor court records and criminal records to see if your information pops up anywhere. If it does, you'll be alerted and the information will be sent to you for review.
IDShield will also alert you via email to identity and credit threats, as well as hard credit inquiries. The downside? Alerting you is about the extent of what they'll do. We found very few ways to take action on threats and alerts through the IDShield dashboard, and figuring out what further action to take in response to a threat took a phone call to support.
This is also true for the Social Media feature offered through IDShield. You can control what kind of content IDShield searches your social profile for, which is great for removing old or offensive comments and posts, but you're not given any recommendations about what social media settings are the most secure. This makes sure your reputation is being monitored, but not necessarily your privacy.
As a bonus, when you sign up for IDShield you can also enroll in MemberPerks. This gives you access to discounted movie tickets, travel and accommodations, and even groceries!
Pricing
IDShield has two plans. To protect just one individual, the cost starts at $12.95 a month or $155.40 annually. To protect an entire family, including you, a spouse or partner, and 10 dependent children, the cost starts at $27.95 a month or $335.40 annually. There is no discount if you choose to pay for an entire year instead of paying month to month.
Support and Customer Service
If you're willing to pick up your phone, this is where IDShield really shines. Offering 24/7 support from their Investigation Team, you're able to call for a consultation with an expert when you're concerned that something has gone wrong. The Investigation Team will counsel you on what to do, with areas of expertise from losing your wallet, to social media, to large scale identity theft.
If you suspect that your identity has been compromised, IDShield will work with you to determine if this is the case. From there, they'll help contain your identity, and work to undo the damage that has been done. If they can't stop your identity from being stolen, they pledge to restore it.
For account questions and general support, IDShield is available Monday through Friday from 7am-7pm CST through phone and chat. They also have after hours support, but only in the case of an emergency.
Conclusion
IDShield is a great choice if you're looking for a product the captures a wide depth of services and helps you understand how your protection is doing at a glance. They offer many educational resources to help you better comprehend the information you're looking at, though sometimes these educational resources fall short of providing a next step when you're thinking "what do I do now?".