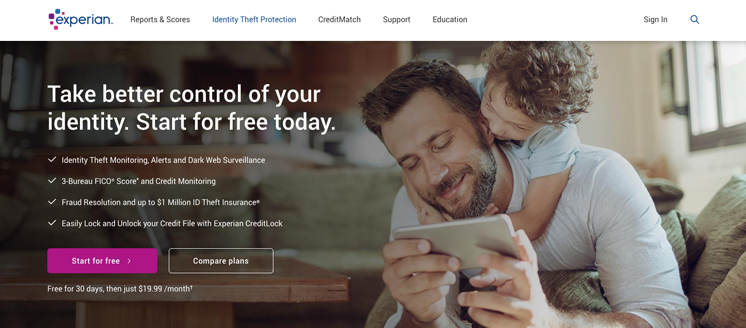 Features and Services
Experian IdentityWorks offers two types of plans, Plus and Premium. With the Plus plan, you'll find a focus on credit monitoring features, with Dark Web Surveillance as the predominant identity protection feature. Once you move up to the Premium plan, you have the added benefits of more in-depth identity monitoring. The Premium plan includes: * Dark Web Surveillance * Lost Wallet Assistance * Identity Theft Monitoring and Alerts * Social Security Number Monitoring * Address Change Verification * Bank Account & Credit Card Takeovers * Identity Validation Alerts * Sex Offender Registry Monitoring * Social Network Monitoring * Experian CreditLock * 3 Bureau Credit Monitoring • FICO Scores * FICO Score Simulator * Credit Score Tracking Something to note, the same credit-based features are offered on the Plus and Premium plan. However, on the Plus plan you'll receive solely Experian data, while upgrading to the Premium plans mean you'll have data from all three credit bureaus. Unsurprisingly, the credit focused features that Experian IdentityWorks offers are a cut above the competition. Directly from your member dashboard, you can lock and unlock your Experian credit file using Experian CreditLock. Additionally, IdentityWorks provides information about your FICO score, which is the number traditionally used by creditors when you apply to take out a personal, home, or car loan. These are two competitive features that you won't find elsewhere. Once you're signed up, the member dashboard is jam packed with useful consumer information. It will take some time to set up your profile and enter the personal information you'd like to be monitored. It will also take some time to dig in to the initial report for each identity monitoring benefit. Even if no threat or alert worthy information has been found, a "report" will be generated that you'll be prompted to click in to. While this takes some time and effort to get acquainted with, there is plenty of educational information presented to you along the way that makes the process worth it. However, if you're short on time, the member dashboard may find it difficult to understand the status of your identity protection at a glance.
Pricing
Whether you're looking to protect yourself or your entire family, Experian likely has a plan for you. All plans begin with a 30-day free trial, and then renew at a regular monthly price. To protect an individual on the Plus plan, the cost is $9.99 per month. To protect an individual on the Premium plan, the cost is $19.99 per month.
Support and Customer Service
If you require assistance, Experian IdentityWorks Customer Service can be reached by phone Monday through Friday from 6am-8pm PST, and Saturday and Sunday from 8am-5pm PST. If you'd like to be assisted through online chat, customer service can be reached Monday through Friday from 6am-8pm PST. Experian IdentityWorks is one of the few companies that offers online chat as a support channel. Alongside interactive options, Experian IdentityWorks also offers a robust self-service customer support option with plenty of resources, which you can access right from your member dashboard. Our experience reaching out to Experian IdentityWorks' customer service was a bit bumpy. When we tried to utilize the online chat option, we were told several times that all agents were currently busy and prompted to try again later. From there, we called customer service. After a recorded greeting, you're immediately asked to say or enter your social security number. Then, you're required to navigate multiple robo-menus that will try to identify and solve your problem before connecting you to a customer service representative. The total duration of the call was about 4 minutes, with only 2 of those minutes spent talking to an actual person. Despite these speed bumps, customer service was able to answer our question and provide the information we were looking for.
Conclusion
What truly adds value to a membership with Experian IdentityWorks is their top of the line credit monitoring. While the Premium plan touts some identity protection features, there's nothing that makes Experian stand out from the crowd. We'd recommend the Experian IdentityWorks Plus plan as a good fit for someone looking for credit monitoring, and the Premium plan as decent value for someone who wants to add on some identity protection features for a reasonable price. While it isn't the most complete protection package on the market, the abundance of resources and direct access to your Experian credit file makes Experian IdentityWorks worth your consideration.