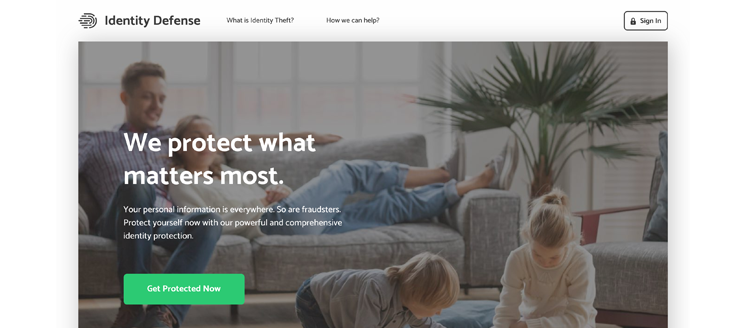 Features and Services
When signing up for Identity Defense, there are 3 tiers of protection available for you to choose from: Essential, Plus, and Complete. The features offered by each plan type builds and expands as you move up in price.
The least expensive plan – the Essential plan - begins at a cost of $6.99 per month, which is a bargain if you're in search of entry level identity theft protection that provides, well, the essentials.
But undoubtedly the best value stems from the Complete plan, which rings in at $14.99 per month if billed monthly, or $149.99 per year if billed annually (a discount equivalent to 2 months of free service).
The Complete plan offers next-level features that provide powerful identity theft protection as well as comprehensive 3-bureau credit monitoring. With your plan, you'll also have access to:
Monthly Credit Scores
Address Monitoring
Social Media Insight Reports
Account Opening Alerts
While the list of features offered by Identity Defense isn't exhaustive, it is extensive, and the Complete plan ensures that all important areas of your identity are monitored.
The Identity Defense feature that stands out from the list is the ability to receive alerts when accounts are opened in your name. Monitoring the accounts open in your name can be one of the most difficult aspects of your identity to have oversight on- and can also be one of the most surefire indicators that your identity has been compromised.
When a savings or checking account is opened using your name or Social Security Number, Identity Defense will send you an alert and ask you to confirm that this account is legitimate. If the account has been fraudulently opened using your information, Identity Defense can help take care of the problem. We found this alert system to be fast and accurate, and something that moves Identity Defense up a spot on our recommendations list.
Pricing
When it comes to pricing, Identity Defense makes it concise and simple. To monitor and protect an individual, you can pay for any one of their three plans monthly or annually. Making an annual payment will afford you some savings – two free months of service, to be specific. For the lowest cost plan, or Essential plan, the cost is $6.99 per month or $69.99 per year. For the Plus plan, the cost is $9.99 per month, or $99.99 per year. And for the Complete plan, the cost is $14.99 per month or $149.99 per year. While the $6.99 Essential plan is tempting - we recommend opting for the Complete plan. With the bump in price comes a bump in coverage, and the plan brings you some of the best value on the market.
Support and Customer Service
Identity Defense offers expansive customer service availability to their customers. You're able to call and easily reach a representative during the following times: Monday – Friday, 8am-11pm EST Saturday, 9AM – 6PM EST We gave Identity Defense a call and were immediately connected with a customer service representative. The representative was kind and knowledgeable and quickly helped us resolve an account issue.
Conclusion
For an identity theft protection option that is fairly new to the market, we were impressed with Identity Defense. Their offering of cutting edge technology alongside comprehensive benefits like 3-bureau credit monitoring and Social Media Insight Reports create unique and worthwhile value that you won't find elsewhere with competitors. When you grade the features offered by Identity Defense against their pricing, we put them squarely among our top recommendations, which isn't an easy spot for a newcomer to nab. If you're in search of competitively priced and innovative identity theft protection that covers all of the bases – Identity Defense is a great option. If you're interested in bells and whistles and a longer feature list, then you may want to continue your search.