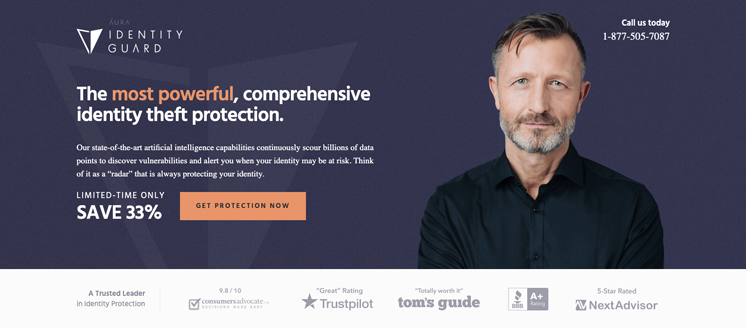 Features and Services
Identity Guard has 3 tiers of protection plans (Value, Total, and Premiere), each offering different features. All 3 tiers include:
Potential Threat Monitoring with IBM® Watson™ Artificial Intelligence
High-Risk Transaction Monitoring
Dark Web Monitoring
Safe Browsing Extension
$1 Million Identity Theft Insurance Policy**
Risk Management Score
Online Identity Dashboard
Mobile Application
Anti-Phishing Mobile App
Dedicated Case Managers
The protection plan that provides the most features (Premier) includes the following in addition to the list above
Monthly Credit Score*
Monitoring of 3-bureau Credit Changes
Bank Account Takeover Monitoring
New Checking or Savings Account Monitoring
3-Bureau Credit Report
Social Insight Report
What impresses us most about Identity Guard's feature set is their use of IBM's Watson. Using artificial intelligence, Identity Guard not only monitors and alerts you to existing threats, but it's also constantly searching for new ones and re-defining what it looks for. In a threat landscape that's always evolving, we found this adaptive technology to be comforting, and something that puts Identity Guard a cut above the rest.
The other use of IBM's Watson that we thought was worth highlighting is a feature on the Premier plan: your Social Insight report. After linking up your Facebook account, this report will use Watson to analyze your Facebook timeline and give you a succinct snapshot of your social profile reputation. With word webs that represent your most used words on Facebook, as well as profanity and vulgarity, this report gives you the opportunity to click through to each occurrence of the word and edit it if need be. This is an excellent tool to monitor your social media reputation, and it can also be used to identify cyber-bullying on your child's Facebook profile.
Another Premier plan feature that we love having access to is the 3-bureau credit report. While Identity Guard provides monthly credit scores, users can request their full, 3-bureau credit report once a year. This information exists right alongside the resources you need to dispute any discrepancies should it be necessary.
Finally, to round out their package of protection, Identity Guard offers a powerful Safe Browsing Extension to all of their users. This extension is compatible with Chrome, Firefox, and Safari and provides all of the safe browsing protections you could want: real time phishing protection to help prevent suspicious webpages from loading, tracking protection to help you from being followed from site to site, HTTPS protection so that you're alerted if you land on an unsecure website, ad blocking to help stop intrusive advertisements and malvertisements, and flash blocking to help stop suspicious flash content from loading.
Pricing
For both individual and family plans, Identity Guard offers 3 tiers of protection: Value, Total, and Premier. Core identity theft protection is offered for all 3 tiers, and more is included as you move up in plan type.
Individual plans cover just one person. The Value plan for an individual starts at $7.20 a month, the Total plan starts at $15.99 a month, and the Premier plan starts at $19.99 a month.
Family plans cover all adults and children residing within one household. The Value plan for a family starts at $14.99 a month, the Total plan starts at $29.99 a month, and the Premier plan starts at $34.99 a month. After synthesizing the features provided for each plan, the Premier plan for both individuals and families presents itself as the best recommended value.
If you aren't sure if the product is right for you, they offer a 30 day trial to test it out and see if you like it.***
Support and Customer Service
Identity Guard offers expansive Support hours for their customers. You're able to call and easily reach someone during the following times: Monday – Friday, 8AM – 11PM ET Saturday, 9AM – 6PM ET
Conclusion
If you value comprehensive and intelligent identity protection, personalized features, and easy to reach support, look no further than Identity Guard.
We found their dashboard to be clean and easy to use, as well as engaging. Interacting with these features gives you a sense of control when it comes to your identity protection, an area where you may feel that you have none. The differences between Identity Guard's plans are tangible, and while this is reflected in plan pricing, we still think that $24.99 a month to be able to help protect yourself on all fronts is the best deal on the market.
Identity Guard makes it simple to understand how to better protect yourself, and offers the best technology in the business in order to do so.
*The score you receive with Identity Guard is provided for educational purposes to help you understand your credit. It is calculated using the information contained in your TransUnion credit file. Lenders use many different credit scoring systems, and the score you receive with Identity Guard is not the same score used by lenders to evaluate your credit.
** Identity Theft Insurance underwritten by insurance company subsidiaries or affiliates of American International Group' Inc. The description herein is a summary and intended for informational purposes only and does not include all terms' conditions and exclusions of the policies described. Please refer to the actual policies for terms' conditions' and exclusions of coverage. Coverage may not be available in all jurisdictions.
*** If you do not cancel your membership within the trial period, your card will be charged either a monthly or annual fee, depending on the membership plan you choose. You may cancel your membership anytime simply by contacting Identity Guard.