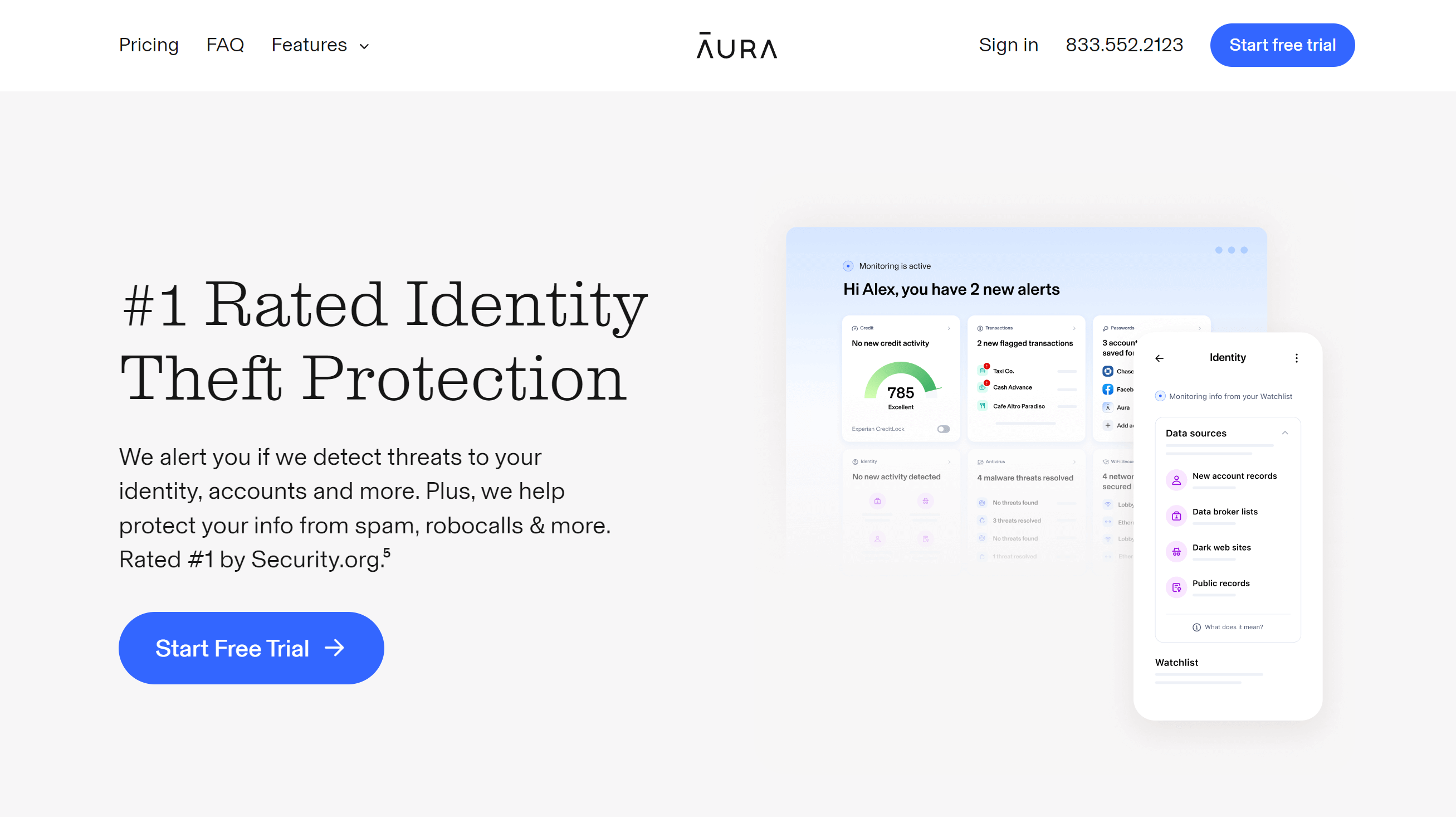 Features and Services
Aura offers 3 tiers of protection plans (Value, Total, and Ultra), each with different features. All 3 tiers include:
Identity theft insurance coverage
Vantage credit score
Data breach alerts
Dark web monitoring alerts
Transaction monitoring of financial accounts
Password manager
Antivirus software
VPN for secure and private browsing
Removal from junk mailer lists
Removal from people search sites
The highest tier plan includes the following in addition to the list above:
$1M identity theft insurance coverage
Concierge support with dedicated case managers
3-bureau credit monitoring alerts
Credit lock
Home title monitoring
Spam call prevention
What impresses us most about Aura is that it provides near real-time alerts to existing threats while also continuous searching for new threats. In a threat landscape that's always evolving, we view Aura's adaptive technology as setting it apart from other digital security solutions. We think it's worth highlighting that Aura takes a comprehensive approach to personal digital security. This means the Aura product features are designed to protect your finances, devices, and your privacy. Two of the new Aura features are home title monitoring and financial transaction monitoring. Home title theft is a growing concern and Aura will alert you to activity related to your property. The financial transaction monitoring features allows users is fully customizable so that you can be alerted to transactions at any threshold for any financial account. Another Ultra plan feature that we value is the 3-bureau credit report. While Identity Guard provides monthly credit scores, users can request their full, 3-bureau credit report once a year. This information exists right alongside the resources you need to dispute any discrepancies should it be necessary. Finally, to round out the package of protection,
Aura
offers antivirus protection and VPN (Virtual Private Network). The antivirus software protects devices from infection from all types of malware, as well as from spyware that can gather financial information. Similarly, the anti-adware capability prevents advertisers from pushing unauthorized downloads, which can slow your computer. Aura's VPN supports private and secure browsing by encrypting your internet connection, shielding your identity from hackers or cyber predators.
Pricing
Support and Customer Service
Conclusion