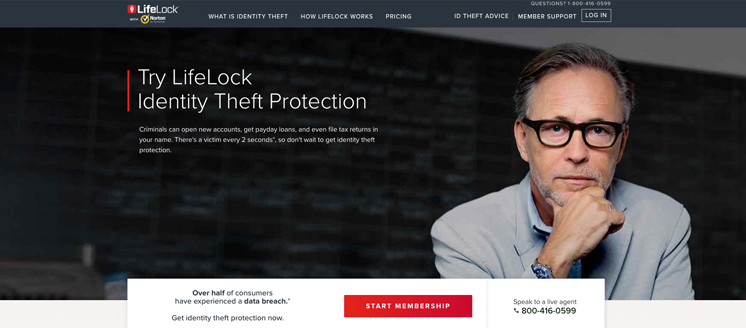 Features and Services
LifeLock offers 3 tiers of identity protection (Standard, Advantage, and Ultimate Plus) with more features included as you move up in plan type. All 3 plans offer:
US Based Restoration Team
SSN and Credit Alerts
Lost Wallet Protection
USPS Address Change Verification
Dark Web Monitoring
LifeLock Privacy Monitoring
Credit Monitoring of 1-3 Bureaus
If you enroll in Ultimate Plus, the highest equipped and most recommended plan, you'll have access to additional features such as:
Alerts on Crimes Committed in Your Name
Data Breach Notifications
Annual Credit Reports
Sex Offender Registry Reports
Priority Live Member Support
As a LifeLock member, you possess a high amount of control over what you'd like to be alerted about, and how. You can receive alerts about account activity via email, call, or text and decide exactly what kind of information you do or do not want to be notified about. This kind of personalization is hard to find with other products, and its inclusion acknowledges that one size fits all isn't the best fit when it comes to something as personal as identity protection. While it will take some time to set up your LifeLock account and alert preferences, it's smooth sailing once you do.
LifeLock strikes a comfortable balance between useful, action-oriented features and educational information, especially where the area of credit scores and reports are concerned. Opening up your user dashboard, LifeLock provides fast and easy to understand reasons for your credit score. Just below this, you're able to learn about freezing your credit or contact the credit bureaus to freeze your credit. Below that, you can review any hard inquiries in to your credit or report an inaccuracy to the reporting bureau. This structure leaves you feeling confident that, in a stressful situation where your credit may be called in to question, you can get the information you need and take the appropriate actions, all from one page.
Alongside LifeLock, you can also opt in to Norton Security services to secure your computer and devices from instances of malware, spyware, and online threats. In theory, this is an addition to your identity protection package that should be a no brainer.
However, to protect your online searches and web activity with their browser extension, it's required to make Norton Safe Search your default search provider, default web browser homepage, and default new tab page. We found this to be rather intrusive to every day web browser use, and overall, didn't find it to add much value to the LifeLock package.
Pricing
LifeLock offers 3 tiers of protection plans (Standard, Advantage, and Ultimate Plus), each including a growing number of features as you move up in plan type, as well as a larger reimbursement for stolen funds if you're the victim of identity theft.
The Standard plan costs $9.99 per month for your first year and includes reimbursement of up to $25,000 for stolen funds. The Advantage plan costs $19.99 per month for your first year and includes reimbursement of up to $100,000 for stolen funds. Lastly, the Ultimate Plus plan costs $29.99 per month for your first year and includes reimbursement of up to $1 million for stolen funds.
Each of these plans covers 1 individual and renews after your first year at $5 more per month. Paying for an entire year will garner you a 16% discount in overall price. And if you're interested in protecting your family, you can add a LifeLock Junior subscription for your children, or a LifeLock Senior subscription to protect your parents or in-laws.
Support and Customer Service
If you need assistance and the self-service support options aren't answering your questions, LifeLock can be reached 24 hours a day, 7 days a week by calling their Support team.
Additionally, you can send a message to the Support team directly through the LifeLock mobile app. They state that typically, responses can take up to 24 hours, but we received answers to our questions within 10-15 minutes.
Conclusion
LifeLock provides healthy identity theft protection alongside a customized member experience. It's versatile defense that has the ability to be a great fit for almost anyone, and is not to be skipped in your considerations for identity theft protection.
If you opt for LifeLock, we recommend opting out of Norton Security. Due to the intrusive and disruptive nature of Norton's protection, there are better options on the market that you can use to secure your device and protect your web browsing.