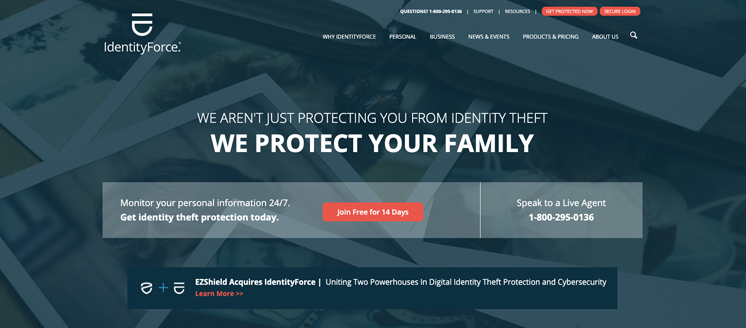 Features and Services
IdentityForce has two tiers of plans: UltraSecure, and UltraSecure+Credit. If you decide on UltraSecure, these are the features you'll have access to:
Advanced Fraud Monitoring
Change of Address Monitoring
Court Records Monitoring
Dark Web Monitoring
Pay Day Loan Monitoring
Sex Offender Monitoring
Social Media Identity Monitoring
Bank and Credit Card Activity Alerts
Smart SSN Tracker
Junk Mail Opt-out
Medical ID Fraud Protection
Online PC Protection Tools
Lost Wallet Assistance
Mobile App
Identity Theft Insurance up to $1 Million
Fully Managed Restoration
In order to have access to credit monitoring tools, you'll need to sign up for their UltraSecure+Credit plan, which costs a few more dollars a month. If you opt for the UltraSecure+Credit plan, one particularly helpful feature that's available to you is a Credit Simulator. If you're interested in building your credit score while keeping tabs on it, this is an excellent tool to have at your fingertips.
Notable on the IdentityForce list of features is Fully Managed Restoration. Should your identity be compromised, you can call a Certified Protection Expert at any time to be counseled on what comes next. While this is a normal benefit of identity protection, IdentityForce goes one step further: they do the heavy lifting. Your Protection Expert will make the calls and fill out the paperwork that needs to be done in order to restore your identity. This is major benefit.
We found IdentityForce's member dashboard to be extremely informative. By splitting information up into categories (Alerts & Messages, Manage Account, Resource Center, Member Support, etc) the dashboard is simple to navigate. However, quickly understanding the information provided on the dashboard is another matter. As listed above, IdentityForce provides a lot of features, and therefore, they provide their users with a lot of information. While this is certainly a good problem to have, it does make it difficult as a user to understand your security at a glance.
Pricing
IdentityForce offers two tiers of protection: UltraSecure, and UltraSecure+Credit.
The UltraSecure plan starts at $17.95 per month, or $179.50 annually. The UltraSecure+Credit plan starts at $23.95 per month, or $239.50 annually. Should you choose to pay annually, you'll receive two months of Identity Force for free.
One thing to note: both the UltraSecure and UltraSecure+Credit plans will only cover 1 individual. If you'd like to add a spouse or family member, it will be the equivalent price of two memberships. If you'd like to protect your children, IdentityForce has a separate product called ChildWatch which can be added to your plan for $2.75 per month, or $27.50 annually.
Support and Customer Service
If you need to get in touch with Member Services, it's never a bad time. IdentityForce offers 24/7 phone assistance. Additionally, you can send the Member Services team an email and receive a response within a few hours.
Identity Restoration Specialists are available around the clock as well, but only for members who are confirmed victims of identity theft. IdentityForce offers light online chat support for sales questions, but does not offer assistance to members via chat.
Conclusion
We'd recommend this product for an individual who has time and interest in investing in their identity protection, as it will take some time to read through all of the necessary materials to get started and maintain your account. Additionally, using Identity Force to protect an entire family may prove on the pricier side.